Overview
Intermodal shipping is a transportation service that uses multiple modes of shipping from origin to destination, without any handling of freight itself while changing modes of transportation. Intermodal transportation utilizes special containers or trailers which allow comodities to be moved directly from one mode of transportation to another without having to be repackaged. Companies use intermodal shipping to move freight in the most efficient, timely, cost effective and enviromentally friendly manner. Landstar uses the following transportation modes in intermodal shipping: trucks, railroad, steamship lines, ocean carriers, and airplanes. The most common intermodal combination is truck and rail.
Advantages
Landstar also provides a number of freight forwarding services. At the beginning of the sale, we can provide the exporter with a quotation on:
More cargo

Trains can haul more cargo at one time than a single truck, which makes rail far more efficient than trucks to move large loads. Using freight trains to haul goods also significantly reduces the amount of greenhouse emissions. Though trains cannot be used in "door-to-door" delivery and have less scheduling flexibility than trucks, Landstar combines the best attributes of both rail and trucks to provide timely and cost effective intermodal shipping.

Flexibility

There are several other advantages to using intermodal shipping. One important benefit is the flexibility offered by this shipping method. Intermodal shipping can be used to transport a wide variety of cargo, including raw materials, manufactured goods, cars, or specialized containers for liquids or perishable items.

Security

Another advantage offered by intermodal transportation is increased security. The contents of the transport are unknown to the shippers because they are opened only at the point of origin, at customs, and at the final destination. Intermodal shipping also limits the risk of loss and spoilage for the goods it transports because the containers are resistant to extreme weather.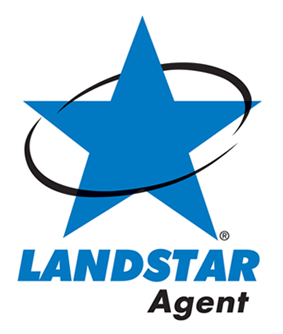 Why use Landstar for Intermodal Shipping ?
Personalized Service. Our experienced operations perfessionals work directly with you to determine your specific transportation requirements. For example, intermodal shipping may not be suitable for all types of goods. Time-sensitive goods might call for faster or more flexible delivery, or may require a smoother transport than railroads can offer. However, Landstar has the capacity and ability to offer many transportation resources to solve any transport need, and to manage each shipment from dispatch to delivery.
Door-to-Door Service. We contract with all major railroads, stacktrain operations, and steamship lines offering competitive pricing for reliable door-to-door service throughout the United States, Canada, Mexico, Puerto Rico, and Hawaii along with customer-specific international trade lanes. In addition, Landstar also offers real-time status reports on every intermodal shipment combined with business-to-business e-commerce, electronic data interchange, electronic file transfer and email.
Intermodal Coverage
Landstar agents deliver rail intermodal shipping services tailored to meet your needs. Our agents are experienced intermodal professionals who work with you to determine your specific intermodal transport requirements and then manage each shipment from dispatch to delivery. Landstar provides full coverage across North America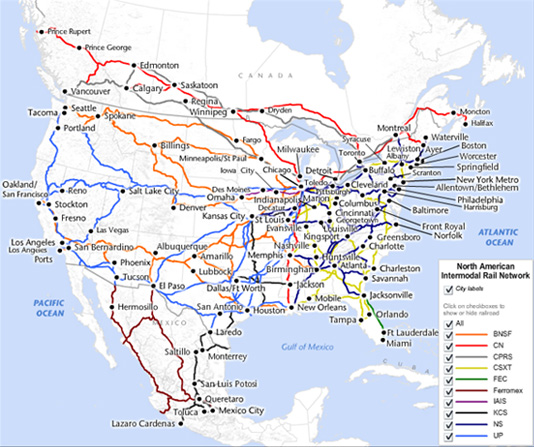 Available Equipment
Landstar agents are independent business owners with a vested interest in your success. Our agents offer customers personalized service at the local level with access to Landstar's vast resources that provide the global support, stability, and
strength of an industry leader.
We have contracts with the major North American railroads and stack train operators. We offer reliable door-to-door servicethat extends into Canada and Mexico, complete with dynamic status reports on every shipment.
Plus, all rail services are complimented by Landstar's vast network of intermodal dray carriers operating throughout North America, and the wide array of equipment available through our third-party capacity providers.
Our seamless optimization of multimodal services will enhance your productivity and efficiency. We utilize innovative technology and a wide variety of equipment to deliver safe, reliable and efficient transportation services throughout
Container on a Flatcar (COFC)
Trailer on Flatcar (TOFC)
Specialty
Rail Cars